Last summer we were blessed with the opportunity to hold our first Kid's Photography Summer Camp.  It quickly turned into one of our favorite events of the year and we knew we would have to make it something we did every year.
This year's schedule includes a few new things along with some of the camper's favorite activities from last year.  Continue reading to get a breakdown of what we will be doing each day.
Monday, June 6th:
Introductions

Our goal with introductions is helping all the campers break out of their shells to feel comfortable with us and the other campers. We also discuss the importance of being able to speak in front of a group and encourage the campers to do so throughout the week.

Basics of Using a Digital Camera and Taking a Great Portrait

During this time Leslie Ann Kitten we will walk the campers through the basics of using their cameras. Leslie will also discuss what goes into taking that great portrait and show the campers examples of great portraits.  She will allow the campers to discuss what they think makes a great portrait.
After time in the classroom, we will take the campers outside to practice what they have learned. During this time Leslie, Cody Trimble, and Scarlett Helms will all be working one on one with the campers making sure they are understanding the lessons from the day.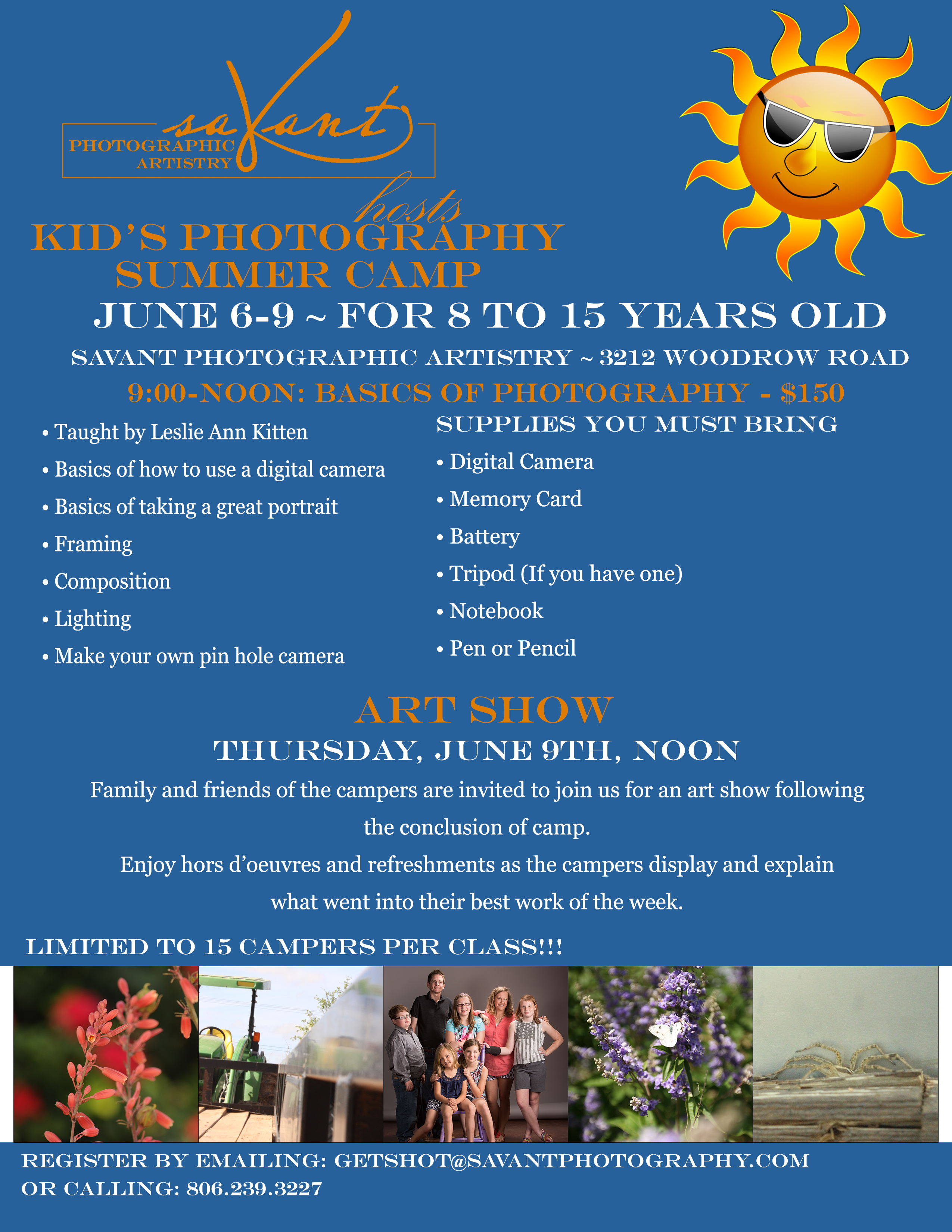 Tuesday, June 7th:
How to Frame Your Image Inside Your Camera

Leslie will lead discussion on the placement of subjects while you are shooting and how this effects the way the image is viewed. After discussing and viewing examples in the classroom campers will go outside and practice applying this with a partner.

Lighting and Adjusting Your Camera for Natural Lighting

Leslie will discuss the importance of aperture, f-stop, and exposure and how to set each of these according to the lighting when you are shooting. After discussing Leslie and her team will take each camper outside to work with them one on one on getting everything on their camera set right.
Wednesday, June 8th:
Headshots and Shooting Inside

During this time Leslie will take the campers into the part of the studio where she shoots sessions to discuss what goes into getting ready for a session, why she sets up lights the way she does, and how to pose subjects. Afterwards the campers will get to take headshots of each other.

Take Pin-Hole Camera Pictures

The campers will construct their own pin-hole camera and then go out and take pictures with it. After they take the pictures they will get to work in a dark room developing the images.  While doing this the history of photography will be discussed and campers will learn how photography was done prior to digital cameras.
Thursday, June 9th:
Art Show

The final day the campers will spend preparing the studio for an art show displaying their best work from the week for their family and friends. The show will include hors d'oeuvres and refreshments and start at noon.  This is another time where we will be discuss public speaking and presenting yourself well.
Space is extremely limited for the camp so book you camper's space now.  To book call Cody Trimble at 806.239.3227 or email him at getshot@savantphotography.com.
Share this with your friends!